Augmented Reality in a Virtual World
Production of  virtual tours of the Proximus datacenter in 360 ° in Brussels.
We capture the environment in 360° 2D (can be done in 3D if budget allows).
Every significant or exceptional place in a business can be immortalized and augmented in an immersive linear project with embedded infographics.
A guide or an expert would be filmed to animate the project and bring series of additional information and humanize the project.
Additional character integrations on a green background, shot in 16/9 are also possible to intensify learning process.
The deliverable of this product is a 2D 360 ° linear video with a duration of 5 to 7 minutes depending on the amount of information and the number of places to be included in this virtual tour.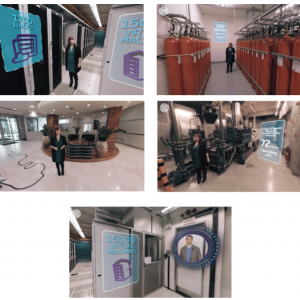 BIM Building Information Modeling
360° Textures

360° Transitions

360° Motion Graphics
Motion design  ( After effects & Nuke)


360° Information compositing
Multiscreens
360° effects
Subtitles
Interactive Anchors
BIM Building Information Modeling

360° Textures

360° Transitions

360° Motion Graphics